Time for a New Hot Water Heater?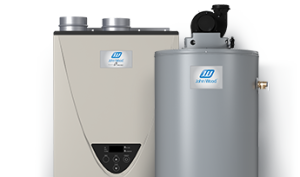 There are several brands and types of water heaters. Rike Plumbing will recommend the make, type and size of heater to best suit your budget and lifestyle.
Natural gas hot water heaters need to be installed by a licensed professional. Gas appliances must be vented properly to ensure your family's safety. Depending on the age of your home, the water heater may be vented differently.
Rike will safely remove and dispose of your old hot water heater. A hot water heater replacement can be completed in the same day.
Tankless Water Heaters
Tankless Water Heaters are the most energy efficient way to heat hot water and you never run out of hot water. They are wall mounted, so they do not take up the same size footprint of a traditional water heater.
Hot water heating is a very small part of your gas bill, so the energy savings from a tankless water heater may not be noticed. Generally homeowners select them for lifestyle reasons. They provide an endless supply of hot water and are a good choice for luxury showers with multiple heads.
Tank Water Heaters
Tank Water Heaters are the most common way to heat water. Residential tank water heaters usually range from 40 to 60 gallons (180 to 270 liters) in size.
Tank water heaters are not as efficient as tankless heaters, but they are often the most cost effective choice for homeowners.